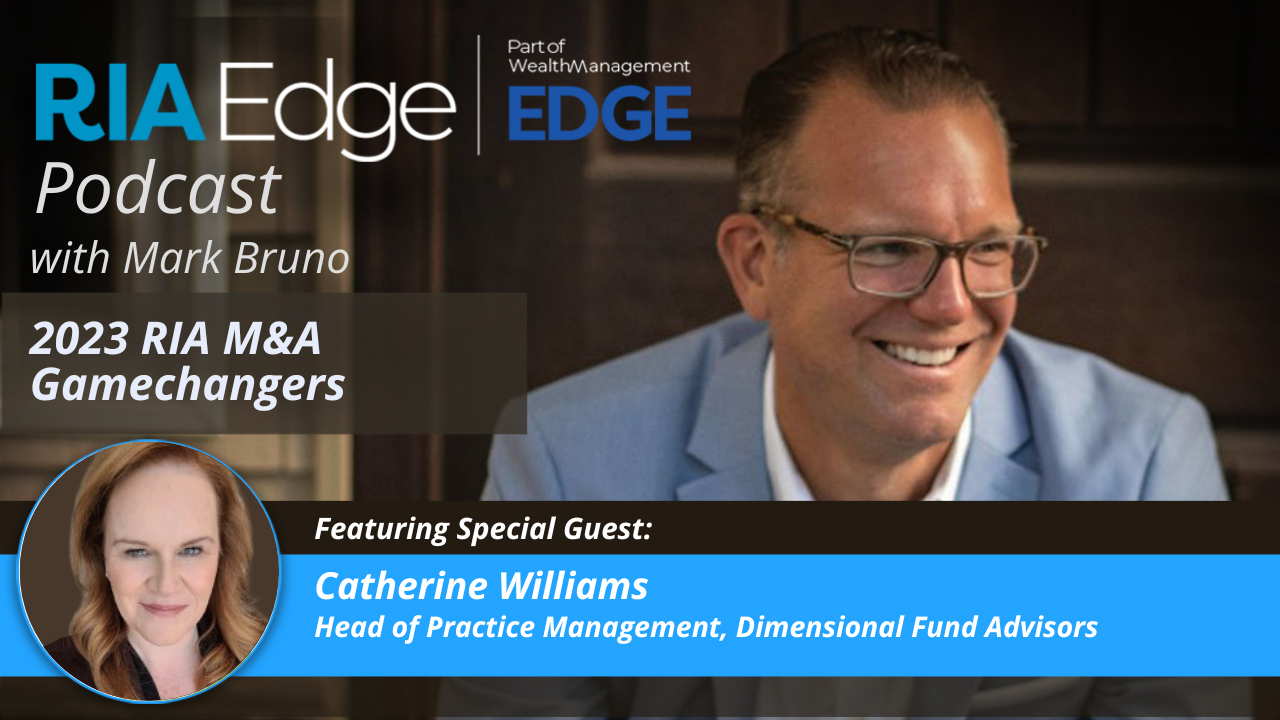 RIA Edge Podcast: DFA's Catherine Williams: 2023 RIA M&A Gamechangers
RIA Edge Podcast: DFA's Catherine Williams: 2023 RIA M&A Gamechangers
Uncover the latest trends shaping the M&A sphere in 2023, driving strategic decisions and future success.
In this RIA Edge episode, Mark Bruno, managing director of the wealth management group at Informa talks with Catherine Williams, head of practice management at Dimensional Fund Advisors, about the changes in the M&A landscape and the noticeable shifts compared to previous years due to market challenges, changing talent dynamics, and client demands. Notably, deal valuations remain strong, but deal structures are becoming more flexible to help sellers rebound from market disruptions.
Specifically, Mark and Catherine discuss:
Changes in deal-making and deal structures – and how they are impacting buyers and sellers.

M&A as a tool to drive growth and regional expansion.

Talent-focused deals where acquiring talent is a priority, addressing demographic shifts and ensuring sustainable growth.

The pace and outlook for RIA M&A deal activity in 2024 and beyond.
Resources:
RIA Edge Podcast
Register for RIA Edge West, September 27-29 
Connect With Mark Bruno: 
Connect With GUEST:
About Our Guest:
Catherine Williams is Head of Practice Management at Dimensional. Based in the Charlotte office, Catherine delivers benchmarking and practice management insights to advisors. Prior to joining Dimensional, she spent more than 20 years in the investment industry, including serving as chief operating officer for a large RIA. Most recently, Catherine offered strategic and executive coaching to investment advisors as an executive business coach with the Carson Group and as vice president of practice management and consulting with Fidelity Investments.
Catherine studied broadcast journalism and has focused her professional learning on leadership development, which includes coursework through Babson Executive Education. She has served as an advisory board member for the Center for Investment and Wealth Management at the UCI Paul Merage School of Business, and as a coach/mentor for the G2 Leadership Institute. Catherine hosts the Dimensional podcast series Managing Your Practice, which was created to provide insights that help advisors with all aspects of their businesses.
Podcast: Play in new window | Download | Embed
Subscribe: RSS