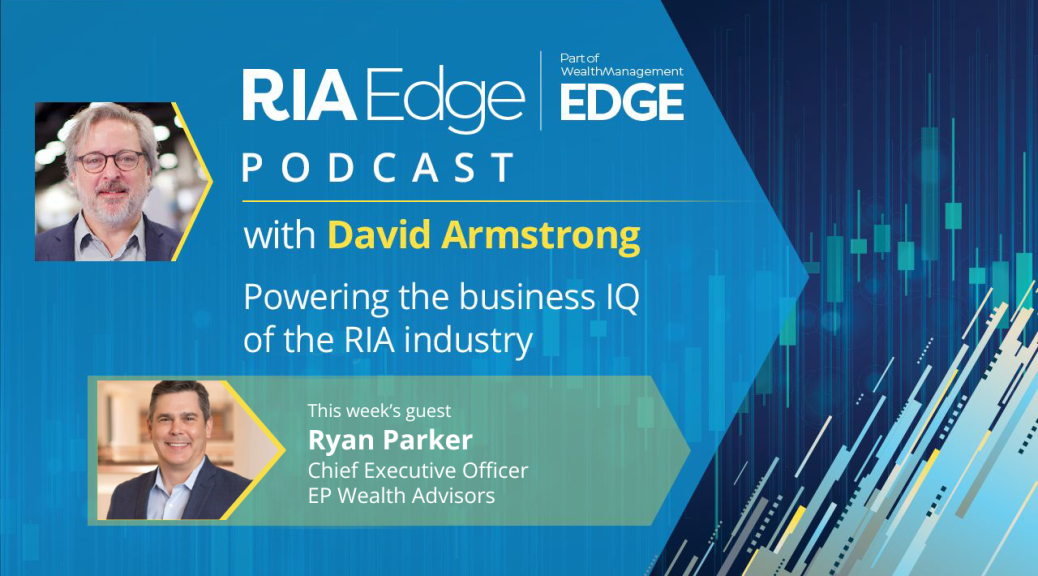 RIA Edge Podcast: Ryan Parker on Organic Growth and Acquisitions in a Competitive Landscape
Ryan Parker, CEO of EP Wealth, sheds light on the firm's intentional M&A strategy and what it means for the company's development.
In this episode of the RIA Edge Podcast, David Armstrong, managing director of editorial and content strategies for the Wealth Management Group at Informa, talks with Ryan Parker, CEO of EP Wealth, on the company's robust growth in recent years by thinking big but keeping small. Smart acquisitions and steering their focus toward offering family-office level services has made comprehensive financial planning attractive to a broader clientele.  
Specifically, David and Ryan discuss:
His professional journey from the asset management side of the business to the advisory side, with stints at LPL Financial and as CEO of Edelman Financial Services.

The challenges of combining an M&A strategy with a double-digit organic growth rate that has seen the firm grow in AUM by almost 10X in six years. 

How the firm approaches acquisitions, balancing local autonomy for the acquired firms with a structure of a national RIA, and embedding transition teams with the targeted RIA before the deal closes.

The vision to become the "family office" for the "millionaire-next-door," in part by bringing tax preparation and trust and estate services in house. 
Resources:
Connect With David Armstrong:
Connect With Ryan Parker:
 About Our Guest: 
As CEO of EP Wealth, Ryan is energized by the opportunity to create conditions for others' success, which he considers the greatest contribution any leader can make.
Ryan joined EP Wealth Advisors in 2021 and has been passionate about helping people achieve their goals for over twenty-five years. Previously, Ryan was President and CEO of Wealth Management at Citizens Bank, CEO of Edelman Financial Services, and a Managing Director at LPL Financial. Before turning his focus to wealth management, he began his career on the asset management side at Putnam Investment, Franklin Templeton Investments, and Russell Investments. Ryan has been active in other parts of the industry as well, previously serving as Vice Chairman for Lefteris Acquisition Corp. and as an advisor to various private equity, venture capital, and management consulting firms.
Ryan earned a B.A. from the University of Michigan, and a Certificate in Finance and Accounting from Stanford Graduate School of Business
Ryan lives with his wife and three children in Cottonwood Heights, Utah.  
Podcast: Play in new window | Download | Embed
Subscribe: RSS