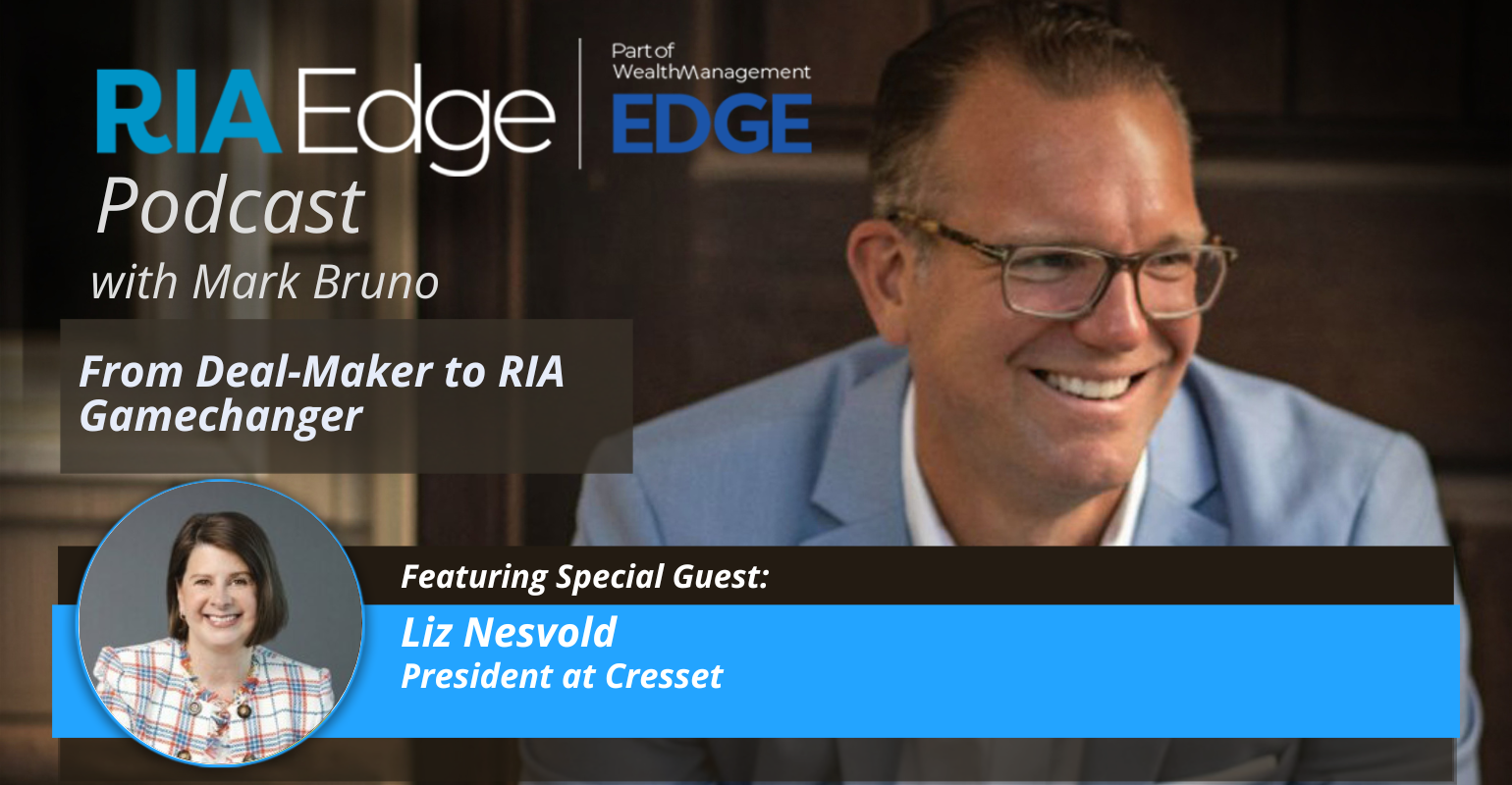 RIA Edge Podcast: Cresset's Liz Nesvold: From Deal-Maker to RIA Gamechanger
Following a remarkable period of M&A activity in the RIA industry, one of the star bankers in the industry has made the leap from leading deals to leading one of the largest RIAs in wealth management. 
 In this special episode of the RIA Edge Podcast, host Mark Bruno, the Managing Director of the Wealth Management Group at Informa, engages in a fascinating dialogue with Liz Nesvold, a renowned investment banker with a 30-year career in the industry.
Recorded live at the RIA Edge Conference, this episode offers an exclusive peek into Liz's recent transition from investment banking to her new role as President of Cresset, one of the fastest-growing and most successful RIA firms. Together, they explore the motivations behind her move and delve into the opportunities within the RIA space, drawing from Liz's vast experience advising on major transactions and working with top-tier investment firms.
Throughout the conversation, they touch on various topics including:
The current state of mergers and acquisitions, along with RIA valuations

Opportunities to accelerate growth in the RIA channel 

The challenges and opportunities associated with talent acquisition. 

Liz's deep insights and unique perspective shed light on the evolving landscape

 
Resources:
Connect With Mark Bruno:
Connect With Liz Nesvold:
About Our Guest:
Throughout her 30-year career, Liz has served as a trusted consultant and investment banker, providing exceptional advice to her clients across business strategy, succession planning, integration, and growth.
Liz is a founder and CEO herself, having launched and built the investment bank Silver Lane Advisors with several talented partners, including her husband, Peter Nesvold. Under Liz's leadership, Silver Lane became a widely recognized leading RIA M&A firm, which was sold to a Fortune 500 company in 2019. Liz remained a Managing Director and Head of Asset and Wealth Management Investment Banking until joining Cresset.
Among her many recognitions, Liz was recognized as a Woman to Watch by InvestmentNews in 2019 for her leadership in the financial advisory industry. She has also been an active champion and advocate for women in financial services throughout her career and is a member of CHIEF, 100 Women in Finance, and Young Presidents Organization. She serves as the independent director on the board of ClientWise, which she recapitalized with Northwestern Mutual Future Ventures Fund.
Liz earned a Bachelor of Arts from Binghamton University and an MBA in Finance with high honors from Fordham University Gabelli School of Business.
Podcast: Play in new window | Download | Embed
Subscribe: RSS