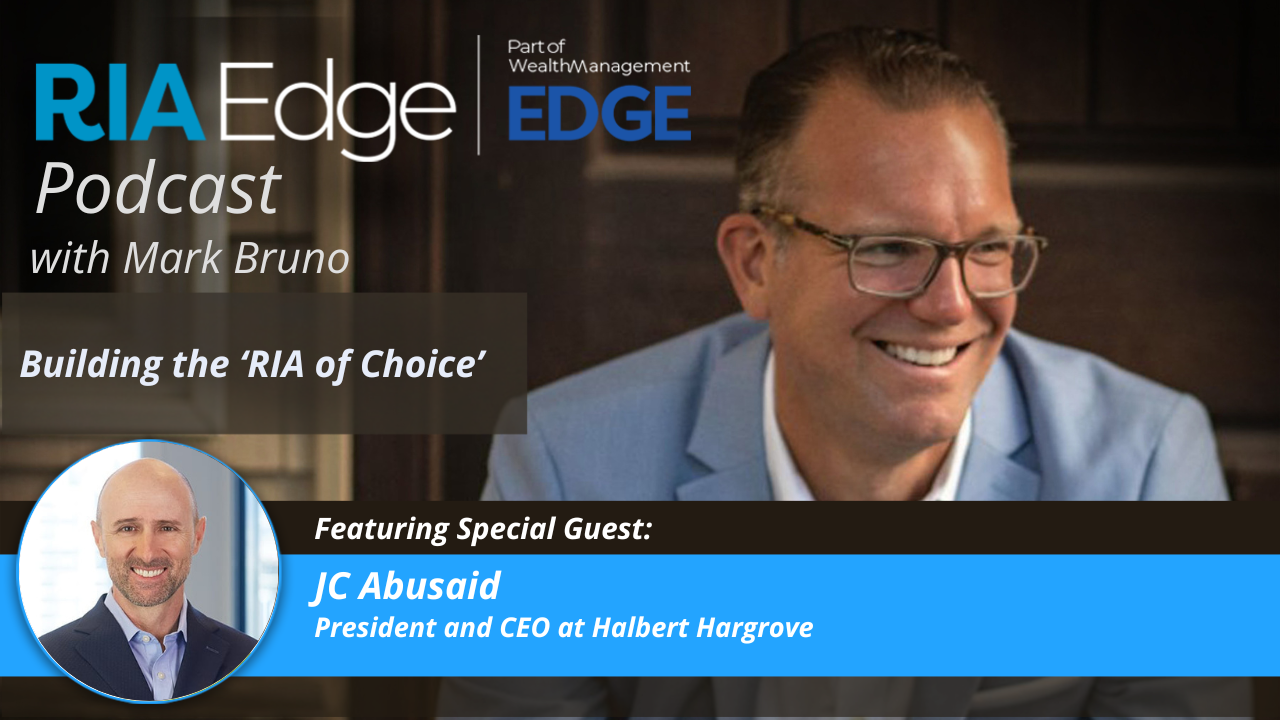 RIA Edge Podcast: Halbert Hargrove's JC Abusaid: Building the 'RIA of Choice'
RIA Edge Podcast: Halbert Hargrove's JC Abusaid: Building the 'RIA of Choice'
Building an RIA firm that can successfully attract, retain and develop top talent – and ultimately become the "RIA of choice" in a specific market — is no easy feat. But one firm, Halbert Hargrove, for years has been building bridges from G1, to G2 and even G3 talent. In the process the firm's experiences has created a bit of a roadmap for other RIA firms to learn from and follow as they look to expand their talent base. 
In this episode of the RIA Edge podcast, JC Abusaid, the President and CEO of Halbert Hargrove, talks with Mark Bruno about the key lessons learned from the firm's organic growth and human capital growth. Specifically, Mark and JC discuss:
 The importance of internships and structured programs to develop talent

 Designing a firm that is structured to grow organically – with consistency – across the organization

 The importance of advanced succession planning

 How firms can successfully expand their networks and attract new talent
Resources:
Connect With Mark Bruno:
Connect With GUEST:
About Our Guest:
As CEO and President of Halbert Hargrove, JC is guiding the firm confidently into the future. Execution and operational excellence are his bywords; we consider him our glue. He formally took the helm of CEO in December 2021. For many years, working alongside Chairman and HH founder Russ Hill, JC has had the privilege to be involved in most facets of the firm, and has enjoyed being part of HH's growth and success.
JC enjoys the dynamic nature of his role: "I like solving big challenges," he says. He joined HH as Operations Manager in 1996 and was named President and Chief Operating Officer in 2010.
JC earned his Bachelor of Science in Business Administration with a Finance emphasis from the Colegio de Estudios Superiores de Administracion in Bogota, Colombia, and his MBA from University of Redlands School of Business. He was awarded the ACCREDITED INVESTMENT FIDUCIARY™ designation by the University of Pittsburgh-affiliated Center for Fiduciary Studies.
In 2016, JC was part of Stanford University's pioneer cohort in earning a LEAD Certificate in Corporate Innovation from Stanford Graduate School of Business. In 2021, he was again part of an inaugural class, this time in taking part in BlackRock's first Emerging Leader Lab.
Podcast: Play in new window | Download | Embed
Subscribe: RSS