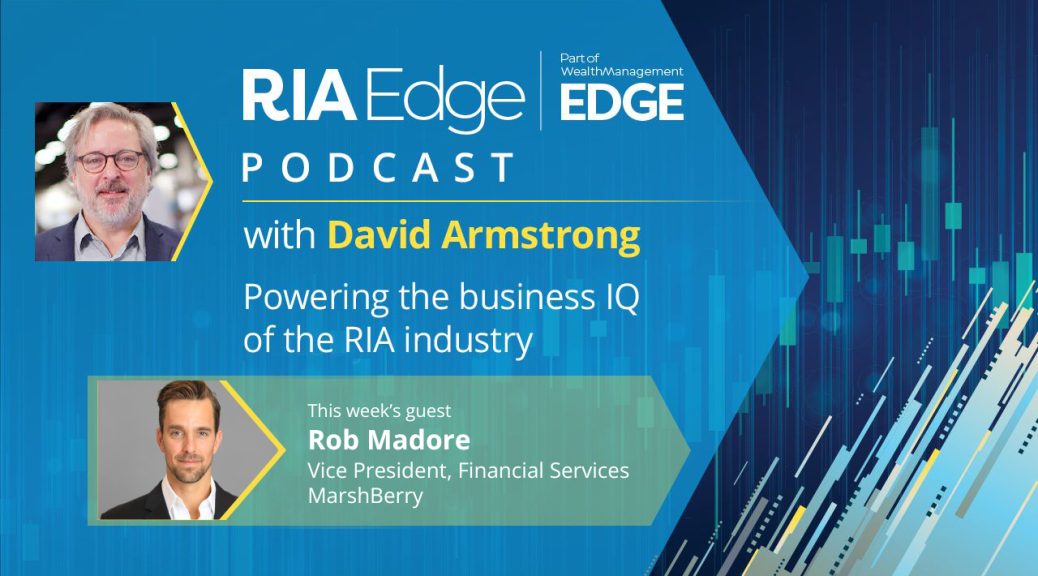 RIA Edge Podcast: Navigating RIA Growth and Succession Planning with Rob Madore
Marshberry's Rob Madore shares strategies for growth, succession and the recent shift in how RIAs are approaching mergers and acquisitions.
In this episode of the RIA Edge Podcast, David Armstrong, managing director of editorial and content strategies for the Wealth Management Group at Informa, talks with Rob Madore, vice president of financial services for MarshBerry, about the recent RIA Edge research study. Conducted by WMIQ in partnership with MarshBerry, the study uncovers how advisors views on the different levers for organic and inorganic growth are changing. The interview explores the importance of strategic planning, cultural fit and the increasing sophistication of buyers and investors in the business of financial advice.
Specifically, David and Rob discuss:
How RIA leaders feel overall about growth prospects in 2024. 

How true organic growth is rare—except among those firms that approach it with an intentional and well-executed strategy.

What tools and resources have climbed in importance for advisors pursuing growth, and which have declined. 

How internal succession plans can go awry, given market changes over the course of a multi-year handoff in equity.

How advisors are thinking about the M&A market, and what distinguishes firms that receive a full valuation in the transaction, versus those that struggle.

The ever-present, if ill-defined, importance of culture in mergers and acquisitions .

The crucial step of "getting the house in order" before pursuing a sale.

Rob's background as a professional hockey player.
Resources:
Connect With David Armstrong:
Connect With Rob Madore:
About Our Guest: 
As a Vice President on MarshBerry's Financial Advisory team, Rob helps RIAs develop and implement sustainable growth strategies.
Prior to MarshBerry, Rob held leadership positions at companies like Wise Rhino Group, WebMD and Questis, where he was a sought-after speaker and consultant focused on giving firms the tools to thrive through the convergence of the wealth, retirement and insurance industries.
He holds a Bachelor's of Business Administration from the University of Vermont Grossman School of Business and is a proud supporter of veteran groups like SEALKids.
Previously a collegiate and professional hockey player, most recently with the Toronto Maple Leafs organization, Rob now lives in Charleston, S.C., with his wife, Allie, and his two sons, Louis and Teddy.
Podcast: Play in new window | Download | Embed
Subscribe: RSS