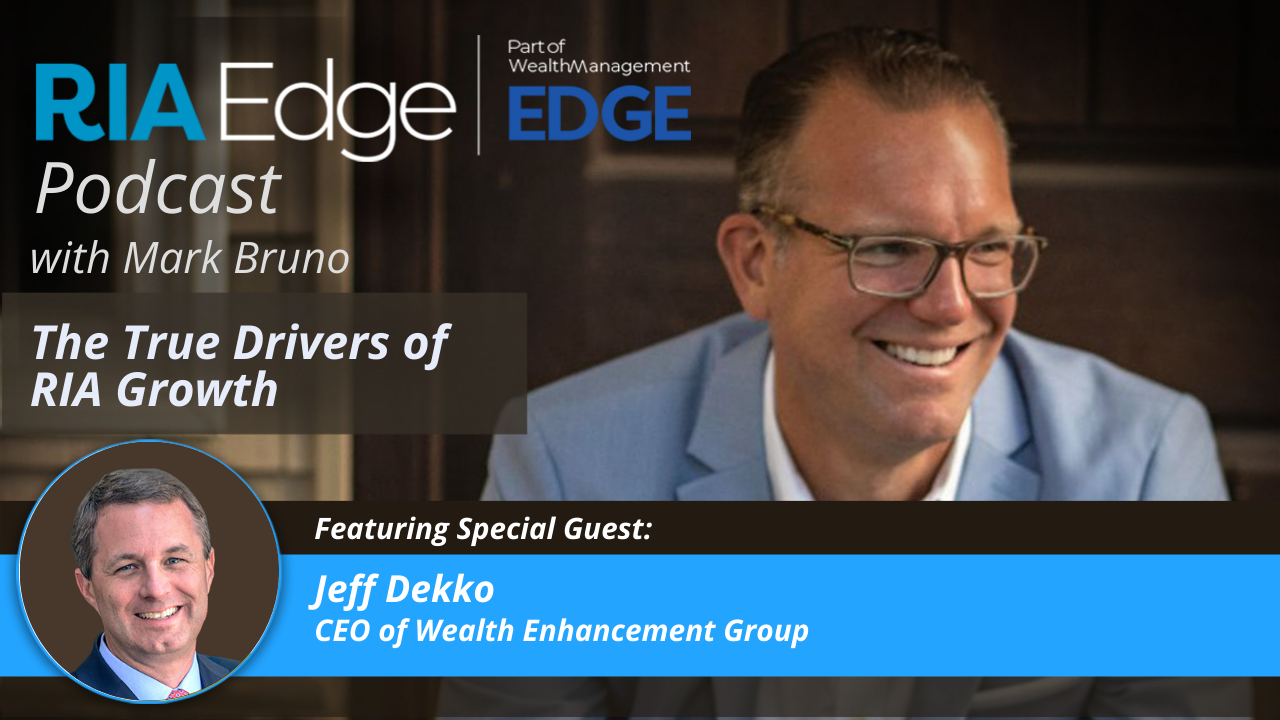 RIA Edge Podcast: Wealth Enhancement Group's Jeff Dekko: The True Drivers of RIA Growth
When Jeff Dekko took the helm at Wealth Enhancement Group, it was a regional player with roughly $600 million in assets. Fast forward to 2023, and WEG is now one of the largest players in the RIA space with more than $60 billion in assets under management and a rapidly growing national footprint. 
While WEG has grown considerably through M&A, organic growth has played an important role in the company's rise as well. In this episode of RIA Edge, Mark Bruno, Managing Director at Informa Wealth Management, speaks with Jeff Dekko, CEO of Wealth Enhancement Group, on how to build a solid foundation for scalable growth. 
Specifically, Mark and Jeff discuss:
What value the Wealth Enhancement Group can deliver to firms it acquires, and how it differentiates in a competitive buyer's market

What is driving the overall M&A market in 2023

How to build a framework for scalable growth

The importance of constantly changing and updating marketing and growth strategies based on the businesses and client needs – as well as market opportunities
Resources:
Connect With Mark Bruno:
Connect With Jeff Dekko:
About Our Guest:
Jeff has more than 20 years of business experience in marketing, technology, operations and finance. He is responsible for overall leadership, growth and development of Wealth Enhancement Group. Jeff began his career with General Mills, Inc., where he served in a variety of marketing management positions. In 1994 he joined Recovery Engineering, Inc., where he was instrumental in the development and branding of the PUR water filtration system. Jeff was a key member of the team that successfully sold the company to Procter & Gamble for a 100% premium over market value. Through his work in technology and management consulting firms, Jeff has helped numerous organizations realize greater levels of success. Jeff provided consulting services to Wealth Enhancement Group before being asked to join the organization as CEO in 2003.
Podcast: Play in new window | Download | Embed
Subscribe: RSS